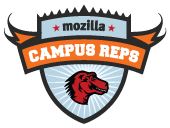 As Mary Colvig mentioned yesterday, we recently surveyed our community marketing team. And that of course includes our Campus Reps (soon to be known as Student Reps).
Thanks to all 367 Reps who completed the survey. That's an impressive response and represents about 20% of our active Reps. With that in mind, let's look at the findings.
Who took it?
367 Reps
44 countries
Mostly new contributors
How active are they?

78% promote Mozilla constantly
17% promote during news announcements or marketing campaigns
5% promote every once in a while or rarely
What are the Reps interested in doing?
Across the board, Reps have the same interest in activities that the whole community marketing team has.  Reps showed slightly more interest in Public Relations, Hosting events, and Market research. Exact differences can be seen below.
Also, Reps selected 5.1 activities on average that interest them, compared to the 4.6 activities the whole team selected. This means that Reps are interested in participating in more types of activities.
What do Reps want to learn about?
We asked what types of workshops our team wants to see. Not surprisingly, workshops specific to Campus Reps were at the top of the list. Speaking/presenting and graphic/web design were also quite high with 57% and 56% of Reps interested in those workshops, respectively. Interest in the other workshops can be seen below.
So what does this mean?
Reps are very active in promoting Mozilla, doing so either constantly or during announcements and campaigns.
Student Reps have similar interests as the rest of the community marketing team. However, it's important to note that Reps tend to be interested in more types of activities overall. Therefore, we should make sure that a variety of opportunities are available to them.
Reps show slightly more interest in PR, hosting events, and market research relative to the whole community marketing team. We can use this insight to offer more opportunities to Reps in these areas.
Workshops about Campus Reps, giving presentations, and graphic/web design are highly sought after by Reps. This finding can help us in planning future workshop topics.