Most companies and organizations dread customer support. It's difficult and resource intensive. However, some companies are using new methods to reach their customers and users. Zappos Service and Xbox's Elite Tweet Fleet are doing a fantastic job at helping their customers on Twitter. They provide responsive support to their customers by staffing teams of support reps.  They're able to help hundreds of customers each day by providing dedicated support teams.
While this approach works well for them, it doesn't translate to Firefox Support, but we can still learn from it. Just like Mozilla's products, our support channel (SUMO) is open source and community powered. It's made possible by an active community of contributors who write and translate support articles, help users in the forums, and assist in live chats. As a result, SUMO does an excellent job at helping users who visit its site.
But what happens for users who don't know about SUMO? They might not get help when they have an issue or question. But they might mention it to a friend, post about it, or even tweet it. And that's where we have a huge opportunity to engage our users – by reaching out to them outside of our websites. Since there are thousands of tweets about Firefox on Twitter each day, that seems like the best place to start.
How can we respond to thousands of tweets daily? Instead of staffing a support team like other companies, we're turning that model on its head by empowering our users to help each other. We've joined up with the SUMO team to create a new community care program that brings support to our users on Twitter.
Say hello to the Army of Awesome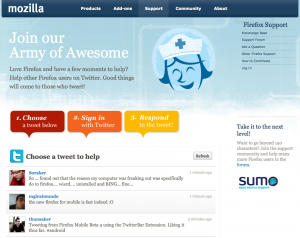 Anyone with a Twitter account can join the Army of Awesome and reply to a tweet about Firefox. Many times it's as simple as showing someone where to find the info they need. Just as we routinely rely on signposts to navigate streets, we've created some standard signpost messages so you can direct users to commonly searched pages.
You don't have to be a Firefox expert to join the Army of Awesome – though of course experts are welcome! Simply choose a tweet, sign in with your Twitter account, and select the signpost message that will point the user in the right direction. Or, even better, create a personal response in your own words.
Go to the Army of Awesome page to try it out. Sending replies to users' tweets takes only a few moments and goes a long way toward helping others have a better Web experience. If you're looking for other ways to chip in, check out our new participation page full of quick and easy ways to spread Firefox!
Happy tweeting! And remember…good things come to those who tweet!
Big thanks to everyone who helped get this program off the ground – Kadir Topal, David Tenser, Michael Verdi, Alex Buchanan, Fred Wenzel, James Socol, Paul Craciunoiu, Stephen Donner, Krupa Raj, Lee Tom, Craig Cook, Mike Morgan, Mike Alexis, Anurag Phadke, Daniel Einspanjer, and Mary Colvig.
What's next for the Army of Awesome?
We'll be building this program out over the next few weeks, and we're starting to scope out the next version. Leave a comment with any feedback or ideas for making the page better. If you think of a new signpost message that should be added to the list, please add your suggestion on this wiki page.