A few weeks ago we heard from some Campus Reps in Europe that the name of the program wasn't well understood at their schools. They said that the idea of a campus is not well known in Europe because most students commute to class and do not live at their school. After talking with our Regional Leaders, we decided to ask all the Reps by creating a simple survey. With just three questions, we're able to gain some valuable insights from the 191 Reps who responded.
Questions
On a scale from 1-5 (1=not understood, 5=well understood), how well is the "Campus Reps" name understood by students in your country?
If "Campus Reps" was to be replaced with another name in your country, which of the following names would students most likely prefer? (choices: Student Ambassador, Student Representative, University Ambassador, University Representative, or suggest your own write-in)
Which country do you live in?
Not surprisingly, the data shows that student opinions on the Campus Reps name vary by geography. Overall, 56% of Reps feel the current name is well understood. Once we break down the data by country and region, we notice some interesting trends.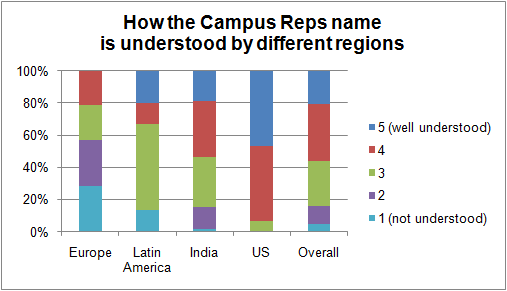 Exploring alternative names
Now that we know the Campus Reps brand doesn't relate well in some regions, let's take a look at how Reps liked the other names we suggested. Overall, Student Ambassador and Student Representative were the top picks (receiving 47% and 25% of votes, respectively). Choosing a name that focuses on the Student rather than the University makes sense. Not all of our Reps are in universities or refer to their school as a university — we even have some Reps in high school.  Also, Representative is a more natural fit since Campus Reps already refers to representative by using its abbreviated form, Reps. Choosing a name that doesn't include Rep or Representative could cause confusion as well, which is why I think its best to pick Student Representative.
Insights
In the US, almost all of the Reps feel that the current name is appropriate
In Europe, the Campus Reps name is not well understood.
In Latin America, the name only relates somewhat well to students.
Student Representative appears to be the best alternative name.
If you want to take a look at the survey data yourself, you can grab it in csv format here:
[download id="1"]
Moving forward
The next step is to get feedback on this data and decide how we want to tweak the Campus Reps brand for different regions. Do we want one other name for Reps outside the US? Or multiple names? What are your thoughts about the Campus Reps name? Let me know what you think in the comments.