As the Campus Reps program has gained popularity across schools worldwide, the number of Reps has grown to over 1,000. Part of the sign-up process for these community members is to tell us about themselves by completing a survey. I'll cover some interesting insights over the course of three posts. This first post will give us a better sense of who these Reps are and their background using demographic information.
Data
The data set includes the 779 Reps that registered for the 2009 – 2010 school year as of June 2009. It should also be mentioned that almost three times that number of people started the survey but did not complete it. In the future, we'll want to look for ways to improve the survey so more people complete it.
Regions
We have Reps in 57 countries. The majority of Reps are located in India, the United States, and Mexico. Here's a list of the top 10 represented countries: India, United States, Mexico, Canada, Brazil, United Kingdom, Sri Lanka, Pakistan, Philippines, and Australia. We have at least 8 Reps in each of these countries and that group accounts for 85% of our Reps.
US Schools
Our Reps are spread across 37 states (plus DC!). The unrepresented states are: Arkansas, Colorado, Connecticut, Delaware, Idaho, Montana, Nevada, New Hampshire, New Mexico, South Dakota, Vermont, West Virginia, and Wyoming.
School year
Most of our Reps are upperclassmen and a good number of them (52%) will be graduating by next year. To make sure campuses continue to be represented, we should encourage these graduating Reps to recruit other students to take their place when they graduate.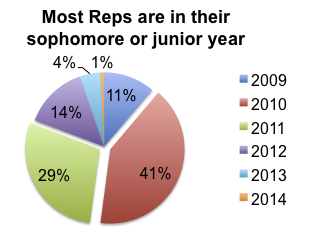 How they found out about Campus Reps
Not surprisingly, most students find out about the program on Spread Firefox. However, it's also great to see that 1/4 of new Reps are joining based on referrals from friends and classmates. To me, that speaks highly of the program and what students are getting out of it.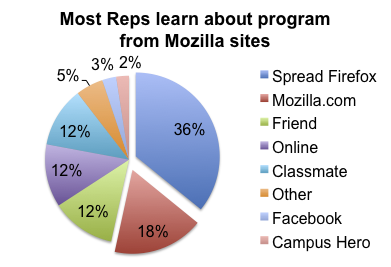 Reasons for becoming a Rep
Again, the number one reason that Reps join is not surprising — they simply love Firefox. Interestingly, Reps see the program as a chance to give back to the community, learn more about marketing, meet new people, and become a leader. The newly created Campus Reps Network definitely provides an environment for Reps to achieve these goals.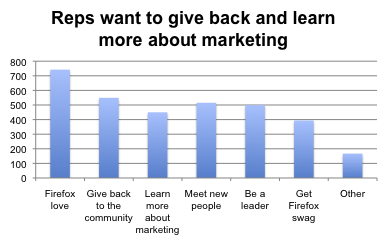 That's it for now. In the next post, we'll look at the projects and campaigns that most interest our Reps.